The Bout'la Rue recipe
For 4 people :
---
3kg of mussels
12 slices of country bread
50 grams of semi-salted butter, softened
Sauce :
2 cloves garlic
1 branch of tarragon
2 tablespoons of Provence herbs
10 cl of dry white wine
1 tablespoon of pastis
15 cl olive oil
Freshly ground pepper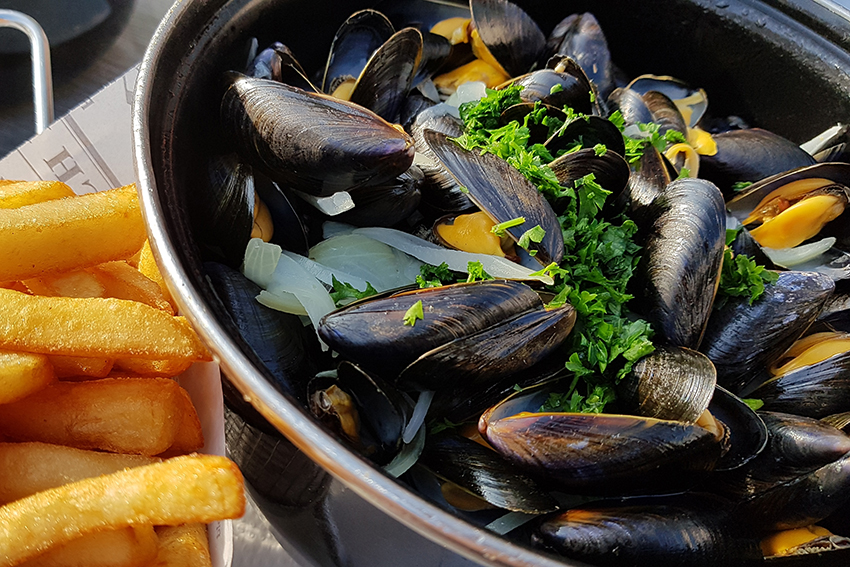 A week before
---
1) Prepare the sauce. Peel the garlic cloves and crush them in a garlic press. Rinse the tarragon branch, pat it dry with paper towels. Remove the leaves and roughly chop the leaves.
2) In a perfectly washed and dried bottle with a wide mouth (such as a fruit juice bottle), put the garlic, tarragon, oil, dry white wine, pastis, Provence herbs and pepper. Close the bottle and shake it vigorously. Keep it cool by shaking it every day.
The same day
---
3) Clean the mussels by brushing them under running water, without letting them soak, distribute them in a large pan (like a paella dish) and place it on very hot embers.
4) Cook the mussels, shaking the pan occasionally, for 8 to 10 minutes, until they open. Then pour the sauce over the mussels and continue cooking for 3 to 5 minutes, shaking from time to time, again the pan.
5) Serve the mussels immediately, after eliminating the unopened ones, with the buttered bread
6) Enjoy !