Gift vouchers
Give a gift voucher for L 'Bout d´la Rue to the person of your choice!
---
How to proceed ?
---
Print the 2 copies below, and fill them out.
Return 1 copy with the payment check (free amount) to:

Restaurant L'Bout d'la Rue
52, Rue Verrerie
21 000 DIJON

Give the other copy to whomever you want.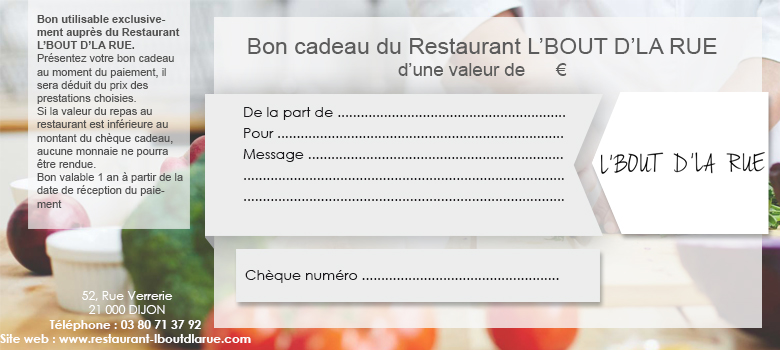 ---
How to use it ?
---
Present your gift voucher at L 'Bout d´la Rue and enjoy a reduction
an amount corresponding to the amount indicated on the gift voucher.

No change can be returned on a gift voucher.

This check is valid for one year from receipt of the check by post,
only in Restaurant L 'Bout d´la Rue, located at 52, Rue Verrerie in Dijon en Côte-d´Or (21000).